Jump Island is an inflatable water park. Climbers, slides, bouncers, and more all floating in a lake at Brighton State Recreation Area. My daughter and I visited Jump Island Brighton with friends both in 2017 and 2018. The 2019 season begins on Friday, May 24 and ends on Labor Day (Monday, September 2).
We had a great time at Jump Island Brighton. My daughter loved all of the climbing and balance obstacles. There were plenty of islands for the adults to sit and watch.
Jump Island Video
While I was more of a photographer and videographer, I did enjoy getting the up close look at the obstacles. Note, you will get wet, so you should only take a waterproof camera into the lake. Check out the video from our visit:
Disclosure: Ann Arbor with Kids is compensated for sales through Amazon links
Except for the first photo taken from the shore, all photos and videos in this article were taken with my Campark Waterproof Camera. I've only used it a few times, but it's been very reliable and is quite affordable. Unfortunately since this visit, I lost it at the bottom of the Argo Cascades.

Our Thoughts on Jump Island Brighton
My daughter had a blast. She loved having a friend with her. I definitely recommend visiting with either friends or siblings. The kids were challenging each other and having fun trying to complete some of the balance obstacles.
I do recommend going early since it tends to be less crowded early in the day. It was easier to complete some obstacles when there was less motion in the water. Additionally, there were shorter waits for things like the Iceberg Climber. Even the dome was nicer when there were less people on it.
On the downside, I think they need more lifeguards. During our first session, there were only 1 or 2 on the islands and they could not see the entire course. Even later, they only had 3 lifeguards out on the islands.
My daughter warns that most of the obstacles are in fairly deep water. However, the log was in shallower water and she scraped her foot on the bottom of the lake when she fell off.
New for 2019 is Splash Island, a smaller section just for kids who are 44″-48″ tall.
Jump Island Sessions
A session starts on every hour and lasts for 45 minutes. At that point, they clear the lake. This allows for safety checks, lifeguard breaks, and safety instruction for new guests.
We had the first session of the day. It was a bit chilly in the morning, but it was the perfect time since it wasn't very crowded. By our third session it was much more crowded.
Visit Jump Island Brighton
Jump Island Brighton is in the Brighton State Recreation Area (6140 Bishop Lake Road). After entering the recreation area, follow the signs to the Beach Area. Jump Island has a trailer on the trail from the parking lot to the beach.
Jump Island's hours are:
Sunday – Thursday – 10a-8p
Friday – Saturday 10a-8p
They are open through Labor Day.
Tickets
Book your tickets in advance! We booked ours the night before and most of the times for the day were sold out (and that was on a cool weekday).
Jump Island offers two types of tickets. You can buy individual sessions or a VIP Pass. Each individual session is 45 minutes. A second session can be added at a discount.
The VIP Pass that is good for 3 consecutive sessions. Individual Sessions starts at $15 with a second session for $10 and additional sessions for $5. A VIP Pass provides 3 sessions for $25 (additional sessions are $5). An all day pass is $50. The 8-8:45p session is only $5, but is just available to walk-ins.
The best deal for Jump Island is a Groupon which is available for 1, 2, 4, 6, or even 10 people. Check out our affiliate link: Get your Jump Island Groupon Now!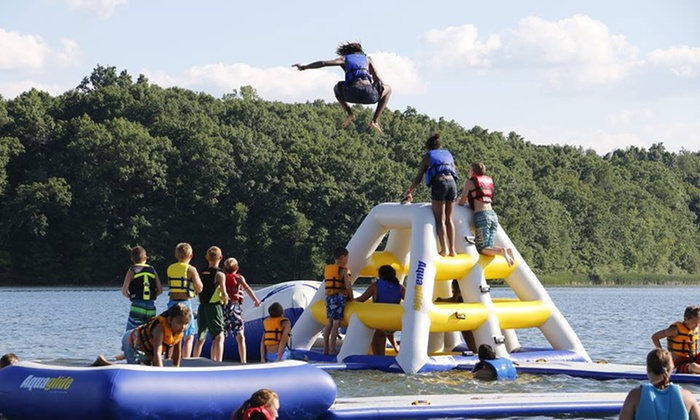 Splash Island (the park for younger kids) is $5 for a 25 minute session or $9 for a 50 minute session.
In addition to your Jump Island ticket, you will need admission to Brighton State Recreation Area. We carpooled with our friends who have the state Recreation Passport.
Who Can Jump?
Kids need to be at least 48″ to participate. There is no swimming requirement as everyone wears a life jacket. However, I recommend it for kids who are comfortable in the water. Even with the life jackets, you still get dunked at the bottom of slides or if you jump off the islands.
We went with friends and while the adults jumped, we did not need as long as the kids. You could definitely do just a single session for the adults and the VIP pass for the kids (unless you have younger kids who will want help).
What to Bring to Jump Island Brighton
Pack like you would for a day at the beach. We brought sunscreen, water bottles, and of course towels. There are picnic benches available near the beach, however they filled up quickly. If you come later in the afternoon, I suggest bringing chairs or a blanket for the beach.
I also suggest packing a lunch or at least snacks. We didn't pack lunch and went out on our way home. But, we did wish that we had brought some snacks. Since our 2017 visit, they have added a grill for burgers and hot dogs and have snacks available for purchase.