11 Places to Get Wet: Ann Arbor Swimming Pools, Water Parks, and Sprayscapes
One of my daughter's favorite parts of summer is the water – whether it's swimming, water slides, splash parks, or just getting wet. Fortunately, there are a number of Ann Arbor Swimming Pools and more for kids to get wet and cool off this summer. The 11 places to get wet below may include an admission charge, but do not require a season membership.
Outdoor Swimming Pools
The City of Ann Arbor runs 3 outdoor pools that are open to the public. There are both daily admission and a season pass (individual or family) option. The decision between a pool pass or daily admission will depend in part on your family size and the frequency with which you expect to use the pool.
1. Buhr Park Pool
Buhr Park Pool is one component of Buhr Park (2751 Packard Rd). The park also has a small playground, outdoor ice rink (in the winter), sports fields, tennis courts, and Cobblestone Farm. Buhr Park Pool offers a separate zero-entry tot pool with spray features and water toys.
Note: The Buhr Park Tot Pool pictured below is closed on July 19 for repairs. They are hoping it will reopen on the 20th.
Check out more details in our Wednesday Activity Review of Buhr Park Pool.
2. Veterans Memorial Pool
Veterans Memorial (Vets) Pool is located at 2150 Jackson Ave. Vets Pool offers a water slide and a zero-entry kids area with water spray areas. For 2018, Veterans Park received a new pool liner. Don't miss our Veterans Park Playground Profile.
3. Fuller Park Pool
8/21 – Fuller Park Pool will stay open until September 15 this year.
Fuller Park Pool is part of the Fuller Park Complex.Fuller Park Pool has a water slide that looks really cool from the road.In addition to the pool, Fuller Park (1519 Fuller Rd) includes sports fields and a wooden play structure. Last year my daughter asked to do a Playground Profile on Fuller Park. After arriving at the park in mid-May, I discovered her real motivation was to try the water slide. After a few years, we finally visited Fuller Park Pool in May 2018. Unfortunately the slide was closed that day, so we'll have to plan a return trip.
---
Ad:
Upcoming Sponsored Events
---
Admission and Hours for City of Ann Arbor Pools
Admission to the Ann Arbor Parks is $5 adults (18-54), $4 for youth (age 4-17) and seniors (ages 55+), and free for children 3 & under accompanied by an adult. The cost of a seasonal membership varies based on the date of purchase, residency status, and membership option.
Open Swim Hours
Veterans Memorial Pool & Buhr Park Pool have the same open swim hours: Note: Veterans Park Pool opens at 11a on Friday, June 15. Buhr Park Pool opens at noon on Friday, June 15.
May 25-June 14

Weekends & Holiday noon-8p
Weekdays 3:30-8p

June 15-September 2

Weekends & Holidays: 1-8p
Weekdays: noon-8p
Fuller Park is open:
May 25-June 14
June 15-September 2

Weekends: 1-8p
Weekdays: 10:30a-8p

September 3-15

Weekends: 1-8p
Weekdays: 4-8p
Tot Splash
Buhr Park & Veterans Memorial offer Tot Splash just for kids age 7 and under with a parent/caregiver. Tot Splash begins on June 18.
Buhr Park Pool

Mondays, Wednesdays, and Fridays: 10a-1p
Tuesdays and Thursdays: noon-1p

Veterans Memorial Pool

Mondays-Fridays (except holidays): noon-1p
Lessons & Swim Team
Each of the Ann Arbor Swimming Pools offers swim lessons. My daughter did swim lessons at Veterans Park for several years. Veterans and Buhr Park also offer swim teams. My daughter loved being on the swim team the last two years and is looking forward to it again.
Other Pool Options
4. Ypsilanti's Rutherford Pool
A reader recommended Ypsilanti's Rutherford Pool as another great outdoor pool option that offers a daily admission option.
Water Parks
Washtenaw County operates two Water Parks as a portion of a larger county park. Each county park has a daily vehicle admission fee ($6 Washtenaw County Residents, or $10 for non-residents) and separate admission to the water park. We typically buy an annual vehicle pass ($30/Washtenaw County Residents, $45/non-residents) that is valid for all Washtenaw County Parks since we visit several times a year.
5. Rolling Hills Water Park
Rolling Hills Water Park is part of Rolling Hills County Park (7660 Stony Creek Rd, Ypsilanti Township). The water park at Rolling Hills is quite extensive featuring a wave pool, two slide towers, zero entry section, splash pad and a lazy river. The splash pad is all new for 2019. My daughter loves Rolling Hills Water Park! We always have a great time as a family when we visit!
Rolling Hills Admission
Admission to Rolling Hills Water Park is based on day of the week, height, and residency status. Children 36″ tall or less are always admitted free of charge, so they are not included on the table of regular rates below:
Washtenaw County Resident

Weekday (after 5p)

Adult – $8 ($6)
Children 36-42″ $6 ($4)

Weekend/Holiday

Adult $10
Children 36-42″ $8

Non-Resident

Weekday (after 5p)

Adult – $10 ($7)
Children 36-42″ $8 ($5)

Weekend/Holiday

Adult $13
Children 36-42″ $11
Rolling Hills Hours
Rolling Hills Hours of Operation vary through the season.
Weekends & Holidays: 11a-8p
Weekdays

May 28-May 31, June 3-7: 11a-5p
June 11-August 17: 11a-7p
August 19-23, 26-30: 11a-5p
6. Blue Heron Bay at Independence Lake
(8/21) Blue Heron Bay is closed for the rest of the 2019 season due to mechanical issues after a power outage. The rest of Independence Lake is still open
Blue Heron Bay is a spray scape with a slide tower at Independence Lake. Admission to Blue Heron Bay is $4 for Washtenaw County Residents and $5 for non-residents. Admission is discounted by $1 after 5p. Children under 2 are free. They are open from 11a-7p. We have really enjoyed Blue Heron Bay when we have visited.
In addition to Blue Heron Bay, you can also swim in Independence Lake. Unfortunately Blue Heron Bay is not adjacent to the swimming beach and you may need to drive between the locations. Swimming at the beach has no additional fees beyond the park admission.
7. Jump Island
In 2017 Jump Island brought an inflatable water park to Brighton State Recreation Area. We had a great time when we visited in both 2017 & 2018.
They are open daily from May 26-September 3. Their hours are 10a-9p.
Affiliate Link:
Be sure to check out the
Groupon for discounted admission
.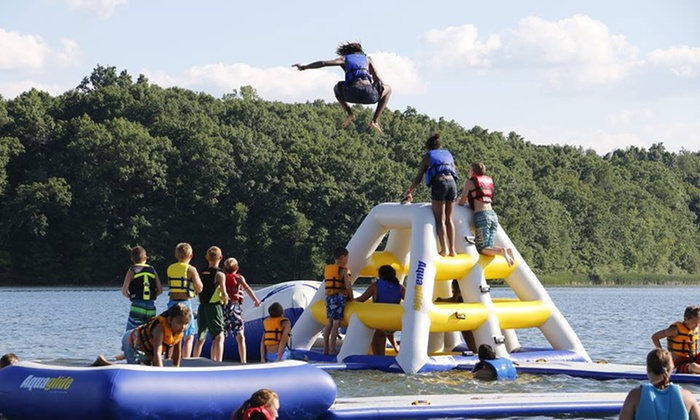 Free Parks
Several playgrounds in the Ann Arbor area feature natural water features where the kids can get wet. Beyond the immediate Ann Arbor area, there are sprayscapes located in Plymouth and Canton. These sprayscapes offer a free place for kids to run through the water and get throroughly soaked. These parks are on our list for playground profiles and to check out the spray scapes.
Our Parks for Splashing article includes parks that have creeks, rivers, or lakes. These parks offer splashing all year with no admission fees!
9. Sprayscapes & Splash Playgrounds
The Plymouth Sprayscape is at 46640 W. Ann Arbor Trail, just east of Beck Rd. The sprayscape is free and operates from 10a-7:30p from the Saturday of Memorial Day weekend through Labor Day. The sprayscape is free to use. The park also boasts a wooden play structure that resembles a fort. The kids always have a great time letting their imaginations run wild as they explore the structure.
There are two splash playgrounds in Canton: Canton Heritage Park and Flodin Park. Both splash playgrounds operate from Memorial Day through Labor Day. They are open 11a-8p daily.
Canton Heritage Park
Canton Heritage Park's address is 1150 South Canton Center Dr. Once inside the park, the Splash Playground is near Summit on the Park Community Center. We visited once years ago with a group when my daughter was not a big fan of Splash Playgrounds. At the time, the splash playground seemed fairly small.
Flodin Park
Flodin Park is on Saltz Rd between Morton Taylor Rd and Sheldon Road. I haven't been to Flodin Park yet.
10. Indoor Options
Cool summer days that don't break the 70 degree threshold mean that the local outdoor pools do not open. So, it is always nice to have an indoor option. Check out our Indoor Pool Guide which includes Open Swim hours (note some indoor locations like Mack Pool are not open in the summer).
Splash Village
Zehnder's Splash Village in Frankenmuth is a fun indoor water park that was expanded recently. This new expansion is light, airy, and offers a number of thrill slides for older kids. Day passes are available, but they are fairly pricey ($42/full day, $35/half day). It is also a little further from Ann Arbor than Splash Universe.

Splash Universe
Splash Universe is in Dundee, about 20 minutes south of Ann Arbor. They offer water slides, spray scrapes, and a lazy river as well as a zero entry kids pool. Be sure to mention that you are from Washtenaw County as they typically offer a discounted daily admission rate for local residents.
Indoor Pools
Indoor Pools include Goldfish Swim School, Meri Lou Murray Rec Center, and Saline Rec Center.
11. Get Wet at Home!
There's no reason that kids can't enjoy getting wet at home. There is no end to the ways that kids can get wet at home. Some ideas are to break out the sprinkler, water guns, sponges, water balloons, kiddie pool, slip & slide, and so much more. When my daughter was a preschooler, I even filled her sled with water to give her a place to play with boats and splash a little. It was easier to fill and move than a kiddie pool since it doesn't hold as much water and is designed to slide.
What about your family? Where do your kids like to get wet around Ann Arbor? What is your favorite Ann Arbor Swimming Pool?