This review of Putterz Batting Cages is part of our Summer Series: Wednesday Activity Reviews. They are open for Summer 2021 and a great choice since they are outdoors and socially distant.
Disclosure: Links below may be affiliate links. Ann Arbor with Kids receives a commission on sales. We appreciate your support by shopping through our links.
About Putterz
Putterz offers batting cages, 3 miniature golf courses (18 holes each), and an arcade. Over the years we have played mini golf several times, but this year was the first time I brought my daughter to the batting cages.
Previously, we have reviewed Miniature Golfing at Putterz. This spring my daughter and I met up with her softball team for a Friday night at the batting cages.
Putterz Batting Cages
Putterz has 4 batting cages. Softball pitches are offered at a single slow-pitch speed while there are several baseball speeds available.
I wish there was a fast-pitch softball option. My daughter plays both Ann Arbor Public School Middle School Softball and Ann Arbor Rec and Ed Softball in the 7/8 league. Most of the pitchers throw without the slow-pitch arc and at a higher speed than the batting cage. In talking with staff, they used to offer a fast-pitch softball machine, but it was less consistent with the pitches. They removed it for safety after batters were hit.
My daughter and her team practiced with both the softball pitches and some baseball pitches to get a slightly faster experience.
---
Events from our Sponsors
---
Tips for Putterz Batting Cages
Helmets are available, but they are adjustable and not as comfortable as sized helmets. They were also baseball style without the facemask cage that my daughter and her softball teammates are used to.
Bats are available or you can bring your own.
Make sure to find a coupon to save on batting cage tokens.
Batting Cages are more fun with teammates.
Place your bat in the rack next to the cage to reserve your spot in line.
Ad: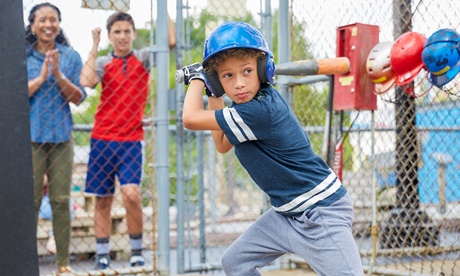 $6 for 10 Batting Cage Tokens at Putterz ($16 Value)
Visiting Putterz Batting Cages
Putterz is on Washtenaw Avenue in Ypsilanti. Their address is 2675 Washtenaw Avenue.
Putterz is open seasonally. They typically open in early April and close in September. According to Google, their summer hours are noon-9p Monday-Thursday, noon-10p Friday, 10a-10p Saturday and noon-8p on Sunday.
Batting Cage tokens are available for $2 or 3/$5. You get 18 pitches for each token.
The Batting Cage has a minimum age of 8. If you have both older and younger kids, you can play mini-golf with the younger kids while the older kids are in the batting cage.
---
Money Saving Tips for Putterz Batting Cages
There are several ways to save at Putterz Batting Cages.
Rent a cage for $25 for 30 minutes or for $35 for an hour. Cage rentals must be made 24 hours in advance.
Join the Savers Club and get 5 batting cage tokens for $5. The Savers Club is $10/season. It also includes $1 off each mini-golf ticket and 6 game room tokens for $1.
Look for coupons. We frequently see coupons in the free mailer magazines. We purchased 8 tokens for $10 and only used half of them on our first visit.
More Fun at Putterz
Don't forget to check out our Activity Review of Mini-Golf and the Arcade at Putterz.