This review of Putterz is part of our Summer Series: Wednesday Activity Reviews.
Back in 2016, my daughter and I visited Putterz in Ypsilanti for an afternoon of Miniature Golf after school. They are open each year from spring through fall. They are open for 2021!
As an outdoor activity which naturally includes spacing between parties, it is a great choice for a socially distant outdoor activity.
Disclosure: Links below may be affiliate links. Ann Arbor with Kids receives a commission on sales. We appreciate your support by shopping through our links.
About Putterz
Putterz offers 3 miniature golf courses (18 holes each), an arcade, and batting cages. The three miniature golf courses are differentiated by color – blue, yellow, and red. We played all three courses and found them to be of comparable difficulty.
The arcade offers a variety of arcade games for fun or to win tickets. Of course, my daughter preferred to win tickets towards a prize.
The batting cages offer a variety of baseball pitching speeds as well as a softball option. We did not test out the batting cages in 2016. However we added a Batting Cage review in 2019.
Putterz is located at 2675 Washtenaw Ave in Ypsilanti.
Review of Putterz
When we selected Putterz, we hadn't realized that Tuesday was an All You Can Play Day. Since we had about an hour left in the All You Can Play window, we decided to go with the Play Day option since it would give us a chance to check out all 3 golf courses and the arcade (unlimited mini-golf and 15 arcade tokens per person). Since the course was relatively uncrowded on a school day, my daughter and I were able to play all 3 courses in about 75 minutes. If the courses are crowded and you have to wait to start playing holes, it would take longer to play through the courses. It will also take longer if you have a group larger than 2.
---
Events from our Sponsors
---
Putterz Mini Golf Courses Review
We found the Putterz golf course to be well-maintained. The moving obstacles were all operating and the greens were in good condition. Most of the holes on the course feature a combination of contours, blocks, and other barriers with a few obstacles featuring a windmill, alligator, fairy house, etc.
My daughter's favorite course was probably the yellow course. It is the one closest to Washtenaw Ave. She made a hole in one three times on this course and only lost to me by one stroke. She struggled more on the other courses. It took her the first course to warm up and re-learn mini-golf since it had been a year since she last went golfing. By the third course, we were rushing to finish and I think she was wearing out after two courses and a whole day at school.

The biggest surprise that I had on the course was how much wind could affect your putting. There were a few big gusts that came up while my ball was rolling and altered its course. I definitely recommend waiting to visit Putterz when it isn't too windy (or wet or too hot).
---
---
Putterz Arcade Review
We had mixed reviews of the Putterz arcade. My daughter enjoyed playing the games. I also played a few games. Unfortunately, we found a few issues with some of the games. The Skee-Ball Game that I played did not always record the proper point total. And the duck punching game did not seem to work properly. We also enjoyed playing a game of Air Hockey even though we didn't earn tickets at that game. The prizes were relatively reasonable for the 91 tickets that we had. My daughter got a back scratcher and an Air Head. If we weren't doing an All You Can Play deal, we would probably skip the arcade on future visits.
Visiting Putterz
Pricing at Putterz
You can also save by visiting on Tuesdays during spring and summer. Tuesdays are All You Can Play Day for $12/person with unlimited Miniature Golf until 5p and 15 arcade tokens.
Batting Cages (18 pitches/token):
1 Token – $2
3 Tokens – $5
1/2 Hour – $25
1 hour – $35
Ad: Save with Groupon: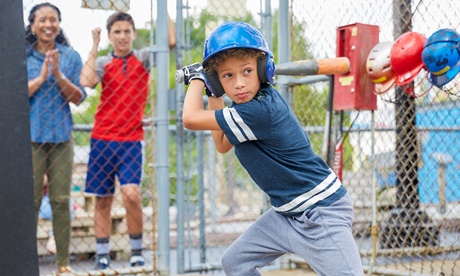 $6 for 10 Batting Cage Tokens at Putterz ($16 Value)
Hours at Putterz
The Putterz website does not list their hours for summer 2021. Google lists their hours as noon-9p Monday-Thursday, noon-10p on Friday, 10a-10p on Saturday and noon-8p on Sunday. Putterz may close earlier due to weather conditions. They typically have shorter hours during the school year.