5 Tips for the Saline Celtic Festival
Have you ever been to the Saline Celtic Festival? We went for the first time in 2014 and returned last year for the 2015 festival. Based on our experience, I've put together some information about the Saline Celtic Festival and 5 Tips for Visiting.
About the Saline Celtic Festival
The Saline Celtic Festival developed from Saline's sister city relationship with Brecon Wales. The volunteer run event highlights traditional Celtic culture.
The Saline Celtic Festival includes the summer music series in downtown Saline on Thursday (7-9p), Friday night Pub Night at Mill Pond Park (5p-midnight), and Saturday's main Festival event at Mill Pond Park (10a-midnight).
2018 Saline Celtic Festival Activities
The Wee Folks Island is definitely the place to be for young kids. Attendees can play mini golf, defeat the dragon, decorate a sword or shield, make a jeweled crown, hear a story from Princess Merida, and participate in the Wee Folks Parade at 4:30p. Wee Folks Island is open from noon-5p.
The Saline Celtic Festival offers a chance to watch activities like Jousting, Highland Games, Celtic Dancing, and more. Definitely make time to watch some of these activities. The Highland Games are our favorite spectator activity.
Throughout the festival, there are activities for kids to try their hand at. My daughter loved participating in a mini highland games challenge and fencing lessons.
Saline Celtic Festival Schedule Highlights
10a-4p Highland Dance Competition
11a Opening Ceremony
noon-5p Wee Folks Island Open
12:30, 3, 5:30p Jousting
4:30p Wee Folks Parade around Festival
---
Ad:
Upcoming Sponsored Events
---
Past Years at Saline Celtic Festival
We had a great time at both the 2014 and 2015 Saline Celtic Festival as shown in the video below and in our 2014 review.
In 2014, my daughter's highlights were the Wee Folks Island and watching the Highland Games. In 2015, the highlight was taking on the kids challenge course and taking a fencing lesson. At 9, she decided to skip the Wee Folks Island in favor of the other activities.
Disclaimer: Ann Arbor with Kids is compensated for sales through Groupon links.
Five Tips for the Saline Celtic Festival
1 – Buy Tickets in Advance
Saline Celtic Festival Tickets are cheaper if you buy them in advance. At the festival they are $15 for adults, $5 for youth (ages 13-17), FREE for children 12 & under, and $10 for seniors (65+). Online tickets are available for $10 for Adults/Seniors and $5 for youth or they can be purchased at Saline City Hall. Online ticket orders have a $0.50 handling fee. If you have an even number of adults, the Groupon below is an even better deal.
Ad: Check out this Groupon for discounted Saline Celtic Festival Tickets.
Admission for Two or Four with Drink Tickets to the Saline Celtic Festival on July 14 (Up to 60% Off)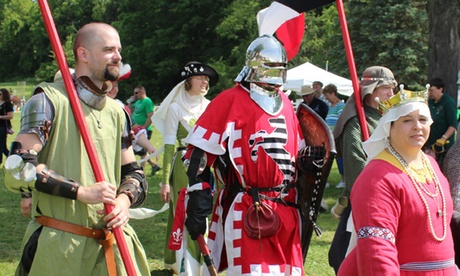 2 – What to Bring
The Saline Celtic Festival has a lot of off-path walking. Baby wearing is probably your best option for infants and toddlers. For preschoolers, you may want to bring a stroller or wagon that can handle "off-roading" across the fields.
Make sure to bring water and sunscreen for your family. The forecast is currently 88 and sunny for Saturday, so you will want to make sure you stay hydrated and don't get a sunburn.
If you will be visiting Wee Folks Island, bring a bag for your child's creations – preferably one that you wouldn't mind getting paint on if their creations are still wet.
Make sure to wear comfortable walking shoes. There is plenty of walking at the Saline Celtic Festival, particularly if you park and walk instead of using a shuttle. Once inside the Festival, you will be walking around grass and uneven terrain.
Many kids go wading in the stream near the Wee Folks Island. A change of clothes might be a good idea particularly for younger children who may end up wetter than originally intended.
3 – Getting to the Festival
The easiest way to visit the Festival is to use the free shuttle buses from the Liberty School (7265 N. Ann Arbor St) and Saline Middle School (7190 N Maple Rd). Shuttle service begins at 7a and runs through midnight. The shuttles run every 15 minutes.
If you wish to park at the Festival, there is street parking available in the neighborhoods near Mill Pond Park and I have also seen some residents charge cars to park in their driveway/yard.
4 – Plan Your Day – Check the Schedule
Be sure to check the schedule and plan your visit accordingly to make sure you hit the highlights. The first time that we went, we spent about 45 minutes on Wee Folks Island partially because I had bought my daughter an entry into the hourly duck race and we had to wait for the race. I do suggest visiting Wee Folks Island early in the afternoon as they ran short on some craft activities in 2014.
5 – Don't Miss These Activities
Obviously for each family, different activities will be at the top of their activity list. Both years we really enjoyed watching the Highland Games activities. For my parents and I it brought back memories of a Nintendo game that we had that featured the caber toss.
I also recommend watching some of the Celtic Dancing and Jousting. I also suggest walking around the entire festival to see the artisans and other demonstrations.
Finally, don't forget to make a stop at the Mill Pond Park play structure.
The following two tabs change content below.
Anna Mae owns & operates Ann Arbor with Kids, a website dedicated to Family Activities in Ann Arbor. My husband and I moved to Ann Arbor in 2003 and our daughter joined the family in 2006.