Yesterday afternoon I asked my daughter if she wanted to go apple picking or to a corn maze this weekend. She really wanted to go apple picking. Since the orchards tend to get crowded by mid-morning and afternoon, we knew we wanted to go first thing in the morning. We debated going today (Saturday) or tomorrow (Sunday). We decided to go with Saturday so the trees wouldn't be as picked over. Our schedule was perfect for apple picking today since my daughter's soccer game isn't until later this afternoon and we would be back home to see at least some of the Michigan game before leaving for soccer.
Wasem Fruit Farm
Our favorite place to pick apples is Wasem Fruit Farm, located at 6580 Judd Rd, Milan. Wasem Fruit Farm is open 9a-6p through November 1. The easiest way to get to Wasem Fruit Farm from Ann Arbor is to head south on US-23 to Willis Rd east. Turn right on Pitman Rd and follow it south to Judd Rd. Turn left on Judd Rd and pull into the Wasem Fruit Farm parking lot. Note Pitman and Judd Rd are dirt roads.
Wasem Fruit Farm Store
When we arrived, we first stopped to buy donuts and cider before they got too crowded. I was also hoping that the yellow jackets wouldn't be awake yet, but we had no such luck. We bought a gallon of cider and half a dozen donuts (one for each today and one to take home for tomorrow). If you buy your cider in take home containers, they have cups available for sale although I remembered to bring cups this year. We hadn't even opened the bag of donuts or cider before the yellow jackets started swarming us, so we decided to skip the cider and just eat our donuts.
In addition to buying the cider and donuts, we bought a gallon of popcorn kernels to use. We eat popcorn frequently, and like buying local popcorn at Wasem. Two years ago, we bought a gallon in early September and it was more than 1/2 gone when we returned to pick pumpkins at the end of October and had to buy a second gallon.
Apple Picking at Wasem Fruit Farm
Before heading to the apple trees, stop by the store at Wasem Fruit Farm. You can buy bags for your apple picking (or supply your own). Apples were $15/half-bushel or $28/bushel. Half-bushel bags are available for purchase in the store or you may bring your own bags/bushel containers. Even if you bring your own containers, you should stop at the store to check out the map for which varieties they are currently picking and where they are located.
We had a great time picking apples at Wasem Fruit Farm. We picked Cortland, Macintosh, Jonathan, Red Delicious, and Golden Delicious. Today was a great day for apple picking. The trees were bursting with apples (although we did need a ladder for most of them) and we quickly filled two half-bushel bags with a variety of apples – one for us and one for my parents who joined us at the orchard.
Talladay Corn Maze
If you're looking for more fun after picking apples, don't forget that Talladay Corn Maze is next door. We've visited Talladay in both 2013 and 2014 and had a lot of fun both times. Don't miss out on the savings below for the Talladay Corn Maze.
Disclaimer: Ann Arbor with Kids is compensated for sales through Groupon links. Thank you for your support by shopping through these links.
Talladay Farms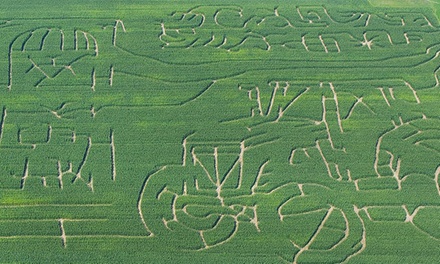 Two or Four Tickets to a Corn Maze or Haunted Maze at Talladay Farms (Up to 50% Off)