What Crepe? Review & Deal
I have been wanting to try What Crepe since they opened in Ann Arbor. Actually, I have been wanting to try them since I saw their Birmingham location when I was there for a movie screening. My schedule never seemed to work to have a meal there while in Birmingham.
With Restaurant Week, and our last few kid-free days before school lets out for the summer., a friend and I went to What Crepe? for lunch. We had been assisting with Field Day at school, so we arrived early, right at 11a. We were lucky enough to secure a parking space directly in front of the restaurant. It is a little confusing to find the entrance to What Crepe? We walked past two doors on the sidewalk that directed us to the entrance in the mini-mall.
Since we were early, we had a prime "people-watching" table by the window. When we were first seated we were each given glasses of water. As both my friend and I are water drinkers, I was skeptical of the small glass size. But, they left a bottle of water on the table so that we could pour refills as needed (and provided a second bottle when we finished the first).
The Restaurant Week menu at What Crepe? offered a 2/$15 lunch deal with each person starting with either a What Crepe? House Baby Greens Salad or the Soup Du Jour (which was curry carrot) and sharing a crepe. My friend and I both chose the salad which was delicious. The dressing was served on the side so we were able to control our quantity of dressing.
Sweet Crepe from whatcrepe.com
For our crepe, we had to choose from one of 6 crepes – 3 savory and 3 sweet crepes. We decided to select a savory crepe and then if we wanted to order a sweet crepe. We opted for the James Dean which has scrambled eggs, sausage, potatoes, cheddar cheese, and a cherry maple glaze. The crepe was cut in half and we were each given separate plates to transfer our half to. We both really enjoyed our crepe. The glaze was delicious. The sweet crepes were too tempting to pass up and we enjoyed perusing the entire menu. We selected Banana Exotique which had caramelized banana, toasted coconut, caramel sauce, powdered sugar, and whipped cream. The crepe was delicious. Sharing both a savory and a sweet crepe was the perfect meal, especially with the salad. In talking with our waiter, he said that many people split a savory and a sweet crepe to make a meal.
I also have to commend them on their service. As we were finishing the table behind us finished and left the restaurant leaving behind a jacket. As soon as they noticed it, our waiter (who was also their waiter) took the jacket and headed outside to see if he could locate them on the street. He came back without the jacket, so I assume he found the customer.
I did not see a children's menu and the restaurant is a little more formal than some of the downtown restaurants. However, I would bring my 7 year old especially for lunch. There are several savory crepes and most sweet crepes that she could share with me.
I was definitely impressed with What Crepe? and will be planning a return trip. What Crepe? is located at 241 E. Liberty in downtown Ann Arbor, across the street from the post office.
---
Ad:
Upcoming Sponsored Events
---
Disclaimer: I am a Groupon affiliate and am compensated for sales through Groupon links. I appreciate your support of my blog by shopping through my links. Please read all terms and conditions of the deal before purchase, they are only summarized here.

What Crepe? is currently offering a Groupon deal for dinner. You can purchase a $50 Groupon for $30. The deal was initially available as a $20 Groupon for $10 valid at breakfast or lunch or a $50 Groupon available for purchase at $25. As the dinner deal sold out, the deal was available at a lower discount ($25, then $30, then $35, then $40). The breakfast/lunch deal and the $25 dinner purchase has also sold out. The $30 deal is still available.
What Crepe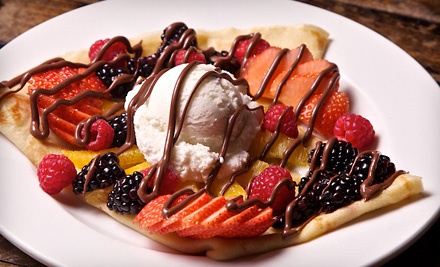 Sweet and Savory Crepes at What Crepe (Up to Half Off)
The following two tabs change content below.
Anna Mae owns & operates Ann Arbor with Kids, a website dedicated to Family Activities in Ann Arbor. My husband and I moved to Ann Arbor in 2003 and our daughter joined the family in 2006.