Fallsview Indoor Water Park & Falls Avenue Resorts
This post was originally published on my Fun with Your Kid Blog in 2013. I have consolidated the content onto Ann Arbor with Kids.
In August, we spent three nights in Niagara Falls. When we were planning our trip, one of my friends mentioned they had stayed at the Fallsview Indoor Waterpark. I knew that would be a big hit with my daughter, so I made sure to check it out. You can choose to stay at one of the Falls Avenue Resort Complex's four hotels and include a water park on your stay or you can visit Fallsview Indoor Water Park on a daily pass.
Hotels at Fallsview Indoor Waterpark
The four hotels in the complex are:
When I looked at the on-site hotels, I was drawn to the Clifton Victoria Inn since we have had good experiences at other Hampton Inns and because it offered FREE breakfast, FREE parking, and FREE Wi-Fi all of which are big money savers for us. The FREE Wi-Fi was especially important since were were trying not to use the internet on our phones while in Canada (at $2.05/MB I was cautious). It was the only Falls Avenue hotel not physically connected to the waterpark, but it was a short walk – across the street and roughly a block to the parking garage. In cold weather you may be able to walk through the Skyline Inn decreasing the outside walk to crossing the street.
Disclaimer: Ann Arbor with Kids is compensated for sales through Groupon links. Thank you for supporting the site by shopping through our links.
Groupon is currently offering a
deal for the Clifton Victoria Inn
.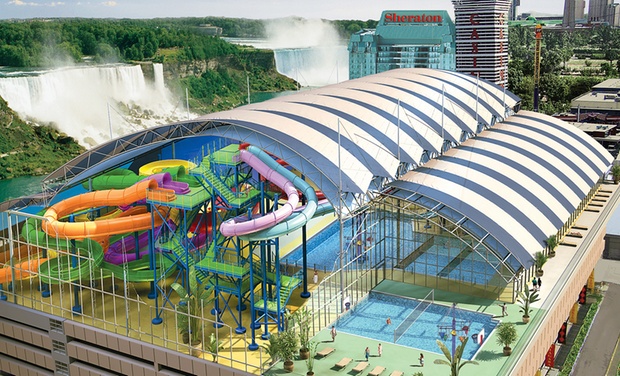 The deal is available with a casino or waterpark package and as a standard 2 Queen room or as a 2 bedroom family suite. The waterpark package includes 4 passes for 2 days at the Fallsview Waterpark, mini-golf passes, game tokens, and more. Dates are available during our Spring Break!
Clifton Victoria Inn
We booked directly through the hotel. We stayed for three nights, but only booked the water package for two of the nights. The water park passes are valid from 1p the day they start until the water park closes on the day your pass ends. We arrived on Sunday evening and based on the weather forecast that had Tuesday with a threat of rain, we decided to spend Monday on outdoor activities near the Falls and start the waterpark Monday afternoon and have it run through our departure on Wednesday.
We were traveling with my parents and my family of 3 staying in separate rooms. You have the option of booking just the hotel or the hotel with water park. The water park package is only sold as 4 admissions, but offers the ability to add additional passes for each day. Since the water park add-on was for 4 people (and I only needed 3), it made more financial sense for my parents to just reserve the hotel and use my extra Water Park pass and purchase an add-on pass.
The Clifton Victoria Inn was similar to a Hampton Inn. We found the WiFi to be adequate, the breakfast was typical of an included breakfast. It was quite crowded the first morning that we were there, but it was a Canadian Holiday (Monday of a 3 day weekend) which increased the crowds at the hotel. It was considerably less crowded the other two mornings that we were there. FREE Parking was available behind the hotel (most Niagara Falls hotels that I looked at charged nightly for parking). Our room decor was perhaps a little dated, but not overly so and everything was clean. I would definitely consider staying there again. While the Clifton Victoria Inn is not directly on Falls Avenue like the Sheraton or Crowne Plaza (and does not offer rooms with falls views), I enjoyed it's location. It was a quick walk to the water park, Falls Avenue, or Clifton Hill, but it was set apart from the noise and lights of the touristy areas.
Fallsview Waterpark
We spent most of the day Tuesday at the Waterpark and stayed until lunchtime on Wednesday. We loved the waterpark. One of the main features of the park is the slide tower which features 4 tube slides, 2 mat slides, and 2 body slides. We tested all of the slides, but our favorite was definitely the bowl slide. You can ride the bowl slide in either a single or double tube. You proceed through an initial pipe slide that exits onto the edge of a large bowl. You circle the outside towards a raised drain with a single opening. Once you enter that opening, you continue down a pipe slide (sometimes backwards) until the landing chute. We did have a few cases where we got stuck in the bowl just missing the exit and had to push ourselves back into the main flow to catch it the next time around.
---
Ad:
Upcoming Sponsored Events
---
I was very impressed with their organization on the slides. They had color coded lines on the stairs for the 4 tube slides and holding areas on the main landing if the lines were long (as was typical for the bowl slide). We definitely noticed an advantage in line length by arriving early in the morning.
On the mat slides, you could race since the tracks were mirror images of each other. You ride these slides head first on your belly. We also liked the body slides which you rode on your back with legs crossed, although we did end up with wedgies after each ride.
Fallsview Waterpark also features a Wave Pool, an outdoor basketball pool, and a play structure with anumber of slides on it. However, it does not have is a lazy river. We definitely missed not having the lazy river. The play structure had a number of slides, that went in different directions making it hard to keep track of our daughter. Our second day, we were smart and claimed chairs near the play structure so we could sit and watch our daughter play on the structure. Unfortunately the Wave Pool broke our second morning at the park. My daughter was not happy with us as we had hustled her past the wave pool to ride the slides before the line got long and then the wave pool was broken when we went back to it. They were working on the Wave Pool for quite a while, so it was probably up and running soon (unless they needed to order a part).
The first day, we walked to Fallsview Water Park from the Clifton Victoria Inn in our swim suits with t-shirts/coverups on and walked back to our hotel in the same way to shower and change when we were done. The second day that we were at the Water Park, we had already checked out of our hotel since we were heading home that afternoon. There are showers and changing rooms available in the mens and women's restrooms that we used. There were only two showers (private) available in the ladies room, but since it was mid-day, my daughter and I were the only two using them. There are also open showers available in the hallway outside the restrooms for a non-private shower.
There are lockers that you can rent at the Water Park. We rented a large locker each day to store our phones, wallets, and dry clothes in. If it hadn't been for the phones we may have skipped it and used a waterproof case for money and credit cards. I loved the locker setup where you bought a key for a locker and had free in and out access to it all day. It was very nice not to have to pay each time we wanted to get something from our locker.
Our first day at Fallsview Water Park we stayed at the park from 10a until around 3p. We had lunch at the Planet Hollywood Beach Club (a counter service restaurant) which is inside the water park. They offered a variety of items such as burgers, wraps, chicken fingers, and more. It was convenient and nice to have options other than pizza or burgers and fries.
We definitely recommend adding the Fallsview Water Park to your itinerary at Niagara Falls. Note that we were there in the summer when the water park is open daily. During the winter months, the Water Park is not open daily.
More Niagara Falls Fun
Check out our Niagara Falls Trip Overview for more information on visiting Niagara Falls.
The following two tabs change content below.
Anna Mae owns & operates Ann Arbor with Kids, a website dedicated to Family Activities in Ann Arbor. My husband and I moved to Ann Arbor in 2003 and our daughter joined the family in 2006.