Saline Celtic Festival
Date/Time
Date(s) - 07/14/2017
5:30pm-11:00pm
Cost: $5 at the gate
NOTE THIS EVENT HAS ALREADY OCCURRED
Organizer:
Saline Celtic Festival

Location
Mill Pond Park
Region: Saline
565 W. Bennett St, Saline

The Saline Celtic Festival begins at 5:30p on Friday, July 14. It continues at 10a on Saturday.
We had a great time at both the 2014 and 2015 Saline Celtic Festival as shown in the video below and in our 2014 review.

In 2014, my daughter's highlights were the Wee Folks Island and watching the Highland Games. In 2015, the highlight was taking on the kids challenge course and taking a fencing lesson. At 9, she decided to skip the Wee Folks Island in favor of the other activities.
Don't forget to buy your discounted Groupon for Saturday at the Saline Celtic Festival:
Saline Celtic Festival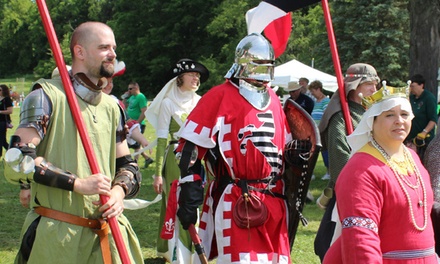 $19 for Admission for Two and Two Drinks at the Saline Celtic Festival on July 9(Up to $45 Value)
Contact Information
Categories
Download the event (.ics format) to your event calendar at this link: iCal
Add this event to your Google Calendar at this link:
Disclaimer: Please double check event information with the event organizer as events can be cancelled, details can change after they are added to our calendar, or we can make mistakes.