The Very Hungry Caterpillar Comes to Detroit
My daughter loved "The Very Hungry Caterpillar" as a toddler. Even at under a year, she would always manage to find it at the library and get upset when I tried to put it back on the shelf.
The Music Hall Center for the Performing Arts in Detroit will have a performance of The Very Hungry Caterpillar on Sunday, January 12 at 4p. In addition to the story of the Very Hungry Caterpillar, the performance will include Little Cloud's journey across the sky, and the Mixed Up Chameleon's discovery of his unique nature.
General Admission tickets are $20 plus $7 in fees. Senior or Student (ages 2-13) tickets are discounted by $10. With fees, an adult ticket is $31.10 and a senior/student ticket is $18.35. You can also buy a family 4 pack for $15.80/ticket ($63.20 total).
You can save money on tickets with the following deal from Groupon.
Disclaimer: I am a Groupon Affiliate and am compensated for sales through Groupon links. I appreciate your support of my blog by shopping through my links. Please read all terms and conditions before purchase as they are only summarized here.
They are offering tickets for two for $29 ($48 value) and or tickets for a family 4 pack for $39 ($76 value, up to 2 adults).
"The Very Hungry Caterpillar"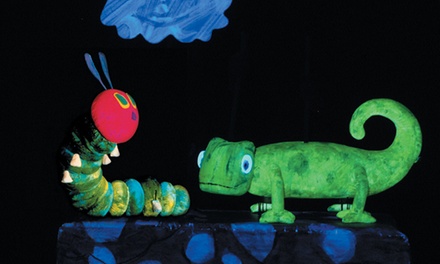 "The Very Hungry Caterpillar" at Music Hall Center for the Performing Arts on January 12 (Up to 49% Off)
At 8, my daughter has outgrown the Very Hungry Caterpillar, but I definitely recommend the show for families with toddlers or younger preschoolers.
Ads – I am an Amazon Associate and compensated for sales through Amazon links:

The following two tabs change content below.
Ann Arbor with Kids is your go-to source for Ann Arbor Family Fun. It got its start in an activity list that I was compiling for the playgroup I ran at our church. When my daughter started preschool, the other moms were thrilled to hear about my list. I decided to take the list public in 2009.
Latest posts by Ann Arbor with Kids (see all)