Putterz Opens Tomorrow! Plus, Savings for Your Visit
I just checked the Putterz website and they are opening for the season tomorrow, Wednesday, April 1 (weather pending)! After school tomorrow might be a great afternoon to visit! Thursday's temperatures look they would be great for mini-golf, but not the forecast – thunderstorms. My daughter always has fun playing mini-golf at Putterz. She was just 3.5 the first time we took her to Putterz. She needed some help, but had a great time.
Putterz is located at 2675 Washtenaw Ave in Ypsilanti.
Disclaimer: Ann Arbor with Kids is a Groupon Affiliate and is compensated for sales through Groupon links. Thank you for your support by shopping through these links. Terms & conditions are only summarized here. Please read fully before purchasing your deal.
What's better than savings on a fun family activity?
Groupon is offering your choice of deals for Putterz. You can buy a deal for either 2 or 4. As a family of 3, I have to choose between buying a deal just for two of us or buying for 4 and letting my daughter bring a friend. No matter which deal you choose, each person will receive one game of 18 holes and a drink (either a soda or an Icee). The package for 2 costs $8 ($18 value) and the package for 4 costs $15 ($36 value).
Your deal will expire on July 3, 2015 Before that the vouchers are worth the full value. After that, they are worth the price paid. The deal is listed as available until April 3 or while supplies last.
Putterz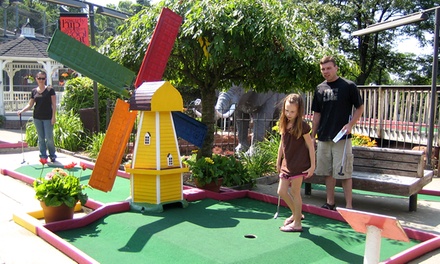 ---
Ad:
Upcoming Sponsored Events
---
18 Holes of Mini Golf for Two or Four with Soft Drinks or Icees at Putterz (Up to 58% Off)
The following two tabs change content below.
Anna Mae owns & operates Ann Arbor with Kids, a website dedicated to Family Activities in Ann Arbor. My husband and I moved to Ann Arbor in 2003 and our daughter joined the family in 2006.