Our Weekend at Cedar Point for Bloggy Con
As I've shared in the past, my daughter is a big roller coaster fanatic. So when I heard about Bloggy Conference being held this weekend at Cedar Point, I knew it was a great fit for my family since we were planning a trip to Cedar Point this year.
The conference itself is being held at Hotel Breakers, Cedar Point's flagship hotel on the island. Conference attendees were offered an amazing deal at the hotel including our park tickets for the 3 days. My daughter has been looking forward to this weekend since I registered back in early May (ok since we left last year as seen in the photo below that I took as we left the park).
Last night we ran into the complication of her being sick with a fever. She stayed home from school today, and was feeling better so we headed out around 4:30p. We arrived to Hotel Breakers around 6:30p and checked in to Hotel Breakers and then I picked up my conference registration to receive our park tickets.
We ended up not making it to the park until around 7:30p. My daughter had one goal…to ride GateKeeper. She had just missed the height cut-off last year. Even though we entered the park from the back entrance by Soak City and Hotel Breakers, we headed straight for the front of the park and Gatekeeper. The line was pretty short. It would have been about 15 minutes but we waited an extra 10 minutes while they removed one train from the track. They had to empty all of the cars before they could move the track to remove a train. GateKeeper is a winged coaster with wings of two seats extending on either side of the track. As we're waiting, my daughter says I'm pretty sure this ride has an Immelmann loop. Can you tell she knows her coasters?
Waiting to ride GateKeeper
My daughter's roller coaster love does have limits. She wanted to ride on the inside instead of the wing edge. She loved the ride! She had her patented "This is awesome!" scream. I have to agree, it was a pretty great ride. It was a unique ride with the wings. My husband and I both commented that it was a very smooth ride. The shoulder restraints are also well designed. I didn't feel like my head was banging between them. They also have a flexible rubber restraint that goes tight over the chest area with the padded bars a little further out. This is a great design for a woman since I often feel like the traditional shoulder harness is crushing my chest. My daughter is demanding a re-count of the Insane Coaster Wars episode featuring GateKeeper. She thought it was one of the best rides she's been on.
Disclaimer: Ann Arbor with Kids is compensated for sales through Groupon. Thank you for your support by shopping through these links
Cedar Point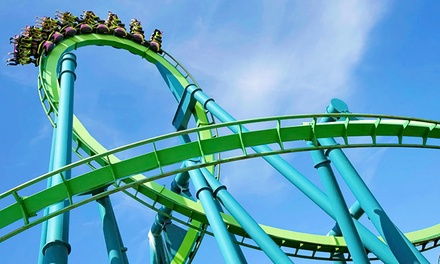 $39.99 for Admission for One to Cedar Point – Everyone Pays Kids' Price ($61.99 Value)
Then, we had a late dinner at Johnny Rockets. Burgers, cheesesteak, chicken club, and cheese fries. It was not crowded and they waited on us instead of having a counter service meal. Overall, the food was pretty good – the fries had processed cheese and my chicken club lacked tomatoes and had an excess of mayonnaise. My daughter really enjoyed her smokehouse burger and my husband enjoyed his cheesesteak – they even had Amoroso's rolls that we used to get when we lived in the Philadelphia area.
After dinner, we headed to the back of the park to ride Maverick which she was also too short for last year. From Johnny Rockets, we had to walk through the Scream Lane area (HalloWeekends started today). A few zombies tried talking to us or jumped out in front of people. Younger children may be scared going through this section at night (the daytime is a family-friendly Halloween celebration). She jumped a few times, but the frights weren't lasting. Unfortunately, it was misting as we were walking and they close Maverick and many of the other coasters in the rain. We had dessert while we waited, but the rain picked up, so we called it a night and headed back to the hotel.
Hotel Breakers is also decorate for HalloWeekends. When we returned from the park, we had to stop to watch a little Halloween TV
Who can say no to The Great Pumpkin? Sadly it was just the opening sequence on a loop and not the entire episode.
We have two more days at Cedar Point (well my husband and daughter do, I'll be at the conference parts of Saturday and Sunday). We are hoping to be able to get on the remaining big coasters…Maverick, Millennium Force, Raptor (if my daughter can make the 54″ height), and the other coasters as well (Corskcrew, Iron Dragon, Magnum, Gemini). My daughter refuses to ride Top Thrill Dragster (I told you, she does have some limits). I'm not sure that I want to try it enough to convince her to ride with me.
Once nice thing about HalloWeekends is that while not all of the rides are open, there are added attractions…haunted houses, fortune tellers, and more. Many of the Halloween attractions had long lines while the lines for the rides were short. Of course, this was opening night for HalloWeekends and the park wasn't open for long. I'm curious to see how tomorrow's crowds are.
Stay tuned through the weekend for more on Cedar Point and my attendance at the conference.  I'll be sharing updates live on Twitter and Instagram with an occasional Facebook post.
The following two tabs change content below.
Anna Mae owns & operates Ann Arbor with Kids, a website dedicated to Family Activities in Ann Arbor. My husband and I moved to Ann Arbor in 2003 and our daughter joined the family in 2006.