The Henry Ford Museum will hold Engines Exposed. During the special exhibit, the hoods of over 40 vehicles regularly on display will be open to see the engines inside.
I owe my daughter a visit to the Henry Ford Museum. She loves visiting the Henry Ford and has since her first trip when she was 4. We were supposed to visit at the end of December with her cousins when they were in town. Unfortunately, my daughter woke up sick that morning so we didn't get to join her cousins on the trip.
There are several great chances to visit the Museum. For toddlers and preschoolers, I recommended visiting on Macy's Second Monday, January 12 or February 9 with special activities for preschoolers and toddlers.
Older kids will enjoy visiting on Saturdays when the museum offers Tinker. Hack. Invent. from 10a-3p. In January and February, the projects will be themed to match the Engines Exposed exhibit.
Free Admission is offered for all guests on Target Family Days. The next Target Family Day is on Martin Luther King, Jr Day – Monday, January 19.
If you want to visit on another
Discounted Admission
Groupon is currently offering discounted admission for either 2 or 4 for the first two weeks of the Engines Exposed exhibit (January 10-25).
Disclaimer: Ann Arbor with Kids is compensated for sales through Groupon links. Thank you for supporting Ann Arbor with Kids.
---
Ad:
Upcoming Sponsored Events
---
The Henry Ford Musuem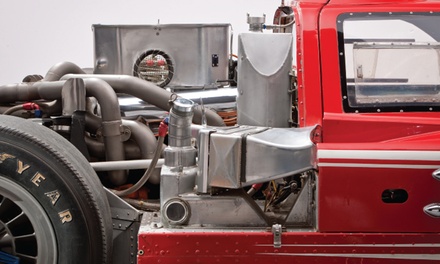 Two or Four Tickets to the Henry Ford Museum featuring "Engines Exposed" (Up to 50% Off)