Deals for Zap Zone Visit
We have yet to visit Zap Zone, but I think we will be with today's deal. If your family enjoys Zap Zone, you will want to check out this deal
Disclaimer: I am a Groupon affiliate and am compensated for sales through Groupon links. I appreciate your support of my blog by shopping through my links. Please read all terms and conditions of the deal before purchase, they are only summarized here.
Groupon is offering Two Games and Two Glo items for $12 (a $24 value). You can choose between a Mouth Guard, necklace, and bunny ears. Your voucher is only valid for the Ann Arbor/Ypsilanti Zap Zone location at 4177 Carpenter Rd.
Zap Zone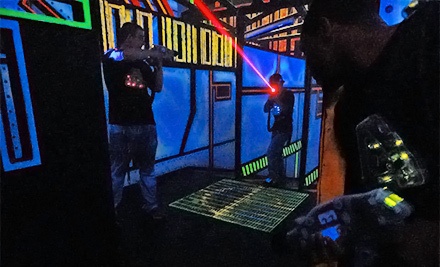 $12 for Laser Tag for Two with Glo Items at Zap Zone (Up to $24 Value)
Your Groupon voucher will be valid for 120 days from purchase – which will cover most of summer break. You can purchase up to two Groupon vouchers to take a larger group or stay for longer.
If you have an upcoming birthday, you may want to checkout their birthday party deal. The deal is available for Ann Arbor or several of their other metro-Detroit locations birthday party for $199 ($400 value). The party includes 20 guests, laster tag, pizza & soda, 2 hours in the party room, and more.
The following two tabs change content below.
---
Ad:
Upcoming Sponsored Events
---
Anna Mae owns & operates Ann Arbor with Kids, a website dedicated to Family Activities in Ann Arbor. My husband and I moved to Ann Arbor in 2003 and our daughter joined the family in 2006.