Day 2 at our Trip to Cedar Point for Bloggy Conference '14
As I blogged on Friday, my family visited Cedar Point this weekend so that I could attend Bloggy Conference and network with other bloggers, brands, and learn some tips on blogging. We stayed at Hotel Breakers and our conference rate included Cedar Point tickets for the weekend. Friday night, all we had time to do before my daughter wore out was ride GateKeeper (which she has been waiting to do since being a hair too short in July 2013) and have dinner. Then it started misting which shut down most of the roller coasters. We decided to call it a night rather than hang out waiting for the rain to start.
Disclaimer: Ann Arbor with Kids is compensated for sales through Groupon. Thank you for your support by shopping through these links
Cedar Point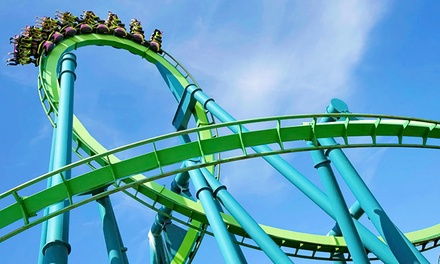 $39.99 for Admission for One to Cedar Point – Everyone Pays Kids' Price ($61.99 Value)
Saturday morning, I headed off to the conference while my husband and daughter got a relaxing start to their day since the park wasn't opening until 11a. Unfortunately I had missed the fact that the park opens an hour early for hotel guests (a great reason to stay at a Cedar Point hotel if you are spending the night). I also discovered that there was a second entry gate from the resort. Yesterday they had sent us to the entrance by Soak City that enters the park around Magnum. The other entrance is on the boardwalk near the convention center and enters the park near Wind Seeker. I wish we had known about this entrance Friday it would have saved us a lot of walking to get to GateKeeper.
Cedar Point Boardwalk Entrance
They had a great morning at the park, hitting many of the big roller coasters before I joined them at 3:30p. The park was fairly crowded with coaster waits around the hour mark for Maverick and 1.5 hrs for Millennium Force. They were able to get on GateKeeper again right at 11a just ahead of the line that grew quickly behind them. They then waited about an hour for Maverick. These were my daughter's top two wish list rides since seeing them on Insane Coaster Wars on The Travel Channel. My daughter was thrilled to just pass the 54″ height (thanks to the extra height provided by her Memory Foam Skechers sneakers) and ride Mantis, a stand-up coaster that will be permanently closing on October 19. Unfortunately it went down the first time they were in line, but they were able to ride it later. However, when they tried to take me to Mantis after dinner, the ride was down again.
Before I arrived, they rode GateKeeper, Maverick, Mantis, Iron Dragon and had lunch. They also spent a long time watching the glass blowing demonstrations. My husband said he had a hard time dragging her out of the demos. After waiting in several long lines, my husband suggested that I bring my daughter's iPod Touch for her to play games on while waiting in line (just as we distracted ourselves with our iPhones). After I arrived, we debated buying the Fast Lane passes since the lines were so long. However at $90/person, the price was a bit too steep for us, especially since we had passes to return on Sunday. We rode the pirate ship (Ocean Treasure) and found the Raptor line was supposedly only 45 minutes (it actually took 70).
Using iPod Touch while waiting in line
After riding Raptor, we left the park for the marina area where we had dinner at Famous Dave's BBQ. It was a great choice – table service, relatively reasonably priced, and not crowded since we ate early (5p). It actually cost us $2 less for dinner at Famous Dave's than our dinner Friday night at Johnny Rockets inside the park.
Millenium Force in the Background
After dinner, my daughter wanted to show me the glass blowing shop and pick out a souvenir – a glass pumpkin. We ended up stopping to pick up the free cookies and caramel apples that we received as part of our conference package. I have to say all of the treats in the sweet shop looked great.
Watching Glass Blowing Workshop
I should note that HalloWeekends started on Friday night and run through November 2 drawing a large crowd. HalloWeekends features family friendly activities during the day. I saw a Snoopy Halloween character show, hay bale mazes, mask designing, and more. Then, in the evening, the spooks come out. There are numerous haunted houses that open up. There are also areas with fog machines and zombies/monsters walking around. Some younger children may find this disturbing. The largest concentration of zombies that we saw were in Frontierland from the Millennium Force entrance back nearly to Gemini. While my daughter isn't really phased by the zombies walking around (she did jump a few times when they startled her and did walk closer to me, but it hasn't produced nightmares or trouble sleeping). However, recent experience has shown me that she is less bothered than some kids her age.
For my family, the roller coasters are a priority so we skipped the Halloween activities. It's so funny to hear my daughter talking with all of the coaster terms. Friday in line at GateKeeper she was talking about an Immelmann Loop, then on Saturday it was the beyond vertical drop on Maverick and the final brake run on Gemini.
The lines did improve Saturday evening. Once the fright attractions (haunted houses, etc) opened, they drew some of the crowds. Several of these attractions had 45 minute waits. PointFest, a Christian music festival, was also Saturday evening in the Soak City parking lot. The combination of people having dinner, the opening of the fright attractions, and the concert, helped to decrease the crowds in line at many of the rides (although we still waited an hour for Maverick). As we left at 10p, we only had a 5 minute wait on Magnum XL.
Of the 17 coasters at Cedar Point, on Saturday we (or just my husband and daughter) rode:
GateKeeper
Maverick
Raptor
Mantis
Mean Streak
Gemini
Magnum
Iron Dragon
Pipe Scream
Our plan was to return on Sunday using the early opening hours to hit GateKeeper and Millennium Force followed by Mantis. I also wanted to try Wicked Twister and Blue Streak, while my daughter wanted to ride Corkscrew which was her favorite last year. She has definitely vetoed Top Thrill Dragster and Wilderness Run is not an option since she is too tall for it (must be under 54″ or accompanied by someone who is).
Unfortunately, my daughter woke up sick (actually sicker as she already had a cold) on Sunday. She told me, "Mom I'm just not up to riding roller coasters today". Fortunately our tickets are valid any day for the rest of the season, so we could come straight home on Sunday morning and are planning a return day trip – probably on a Sunday as they are less crowded.
We stayed at Cedar Point's Hotel Breakers for the conference. They were offering a conference rate that included 3 days of park tickets. The hotel was nicely decorated for Halloween. We loved the bat hallway as you entered.
Hotel Breakers "Bat Hallway"
For the kids, they also were showing the Charlie Brown Halloween special which is a favorite of ours. Both nights when we returned to the hotel, my daughter sat down to watch with my husband pulling up a chair as well the second day.
Watching It's the Great Pumpkin Charlie Brown
Our hotel room was nice with a small view of the park. The room was clean and in good condition. However, it was dated…particularly the television and could have used a few more accessible outlets. The previous occupants had unplugged the lights by the beds (presumably to use the outlet). We have found that traveling with a small power strip is very handy in hotel rooms to charge our devices. Recently renovated hotels are adapting with additional accessible outlets and even USB charging ports.
The hotel is also right on the Lake Erie Beach. I snapped the picture below as I walked along the boardwalk from the hotel to the convention center on Sunday morning. It is a shame that it wasn't warm enough to swim at the beach (the high was 65 during our weekend trip).
Hotel Breakers Beach
We had a great time on our trip. We are looking forward to a day trip to make up for my daughter being sick. We hope that BloggyCon returns to Cedar Point for 2015 and will definitely plan to attend.
The following two tabs change content below.
Anna Mae owns & operates Ann Arbor with Kids, a website dedicated to Family Activities in Ann Arbor. My husband and I moved to Ann Arbor in 2003 and our daughter joined the family in 2006.