$5 off $15 for iTunes! Awesome Deal!
Are you an Apple family? We are. With 3 laptops, 3 iPads, 2 iPhones, 2 AppleTVs, & an iPod Touch we definitely are an Apple family. With all of our devices, we spend more than our share on iTunes especially since we have switched to buying some movies on iTunes instead of physical copies.
Because of our iTunes usage, I am always on the lookout for iTunes deals. My default is Target where I save 5% with my RedCard and who occasionally puts them on sale for 10% off.
Disclaimer: I am compensated for sales through Groupon and iTunes links. I appreciate your support of my blog by shopping through my links. Please verify terms & conditions before purchase.
This morning I was thrilled to see an e-mail from Groupon offering a $15 iTunes credit for $10. Needless to say, I purchased my deal right away. The process was simple using my existing Groupon account (you can signup with your Facebook account if you are new to Groupon). After purchase, I just clicked on the voucher to redeem it and viewed the voucher. The voucher will include your iTunes redemption code with instructions on how to redeem it (Open iTunes, go to Redeem, type or paste the code from your voucher).
iTunes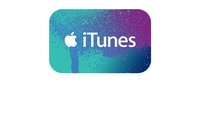 $10 for a $15 iTunes Code (See iTunes Code Terms and Conditions)
There is a limit of 1 deal per person. The deal is available through Monday, September 1 or while supplies last. Deals like this often run out so I recommend purchasing your deal soon.
Wondering what to spend your iTunes card on? A few of our recent purchases include:
Movies
Music
TV Episodes
iOS Apps
Items we are considering include:
Yes, most of my iTunes purchases are for my daughter. For myself, I tend to watch TV and movies via Hulu Plus, Netflix, and Amazon Prime. For music, I have been using iTunes Radio or Pandora. I also tend to gravitate towards free apps.
The following two tabs change content below.
Anna Mae owns & operates Ann Arbor with Kids, a website dedicated to Family Activities in Ann Arbor. My husband and I moved to Ann Arbor in 2003 and our daughter joined the family in 2006.